Sunday October 25th, 6pm
A Gin-sane Pairing Event with Yellowtail Yum Cha and Moore's Gin 
If you have ever found yourself endlessly searching for the perfect food to pair with your nightly gin, look no further. When it comes to wine, culinary pairings come naturally but gin is a little more challenging. However, just like its fellow bevvy, gin has its own distinct flavours that can pair perfectly with the right foods.
You may be familiar with our local Gin distillery in Erina, and may have even had a few of their aromatic botanical spirits topped with your favourite fever-tree tonic.  Yellowtail is excited to bring to the limelight through food and drink matching, this exciting gin.. 
We're excited to announce this ginstromony event, hosted by Lynn Fernandes, the first of many to follow in the series. The laidback event will feature five courses of yum cha style food,  matched with Moore's gins, curated by local Moore's  ambassadors Nigel Weisbaum and Ben Reekie and our very own executive chef Scott Price.
See you all soon
Much Love
Lynn and the team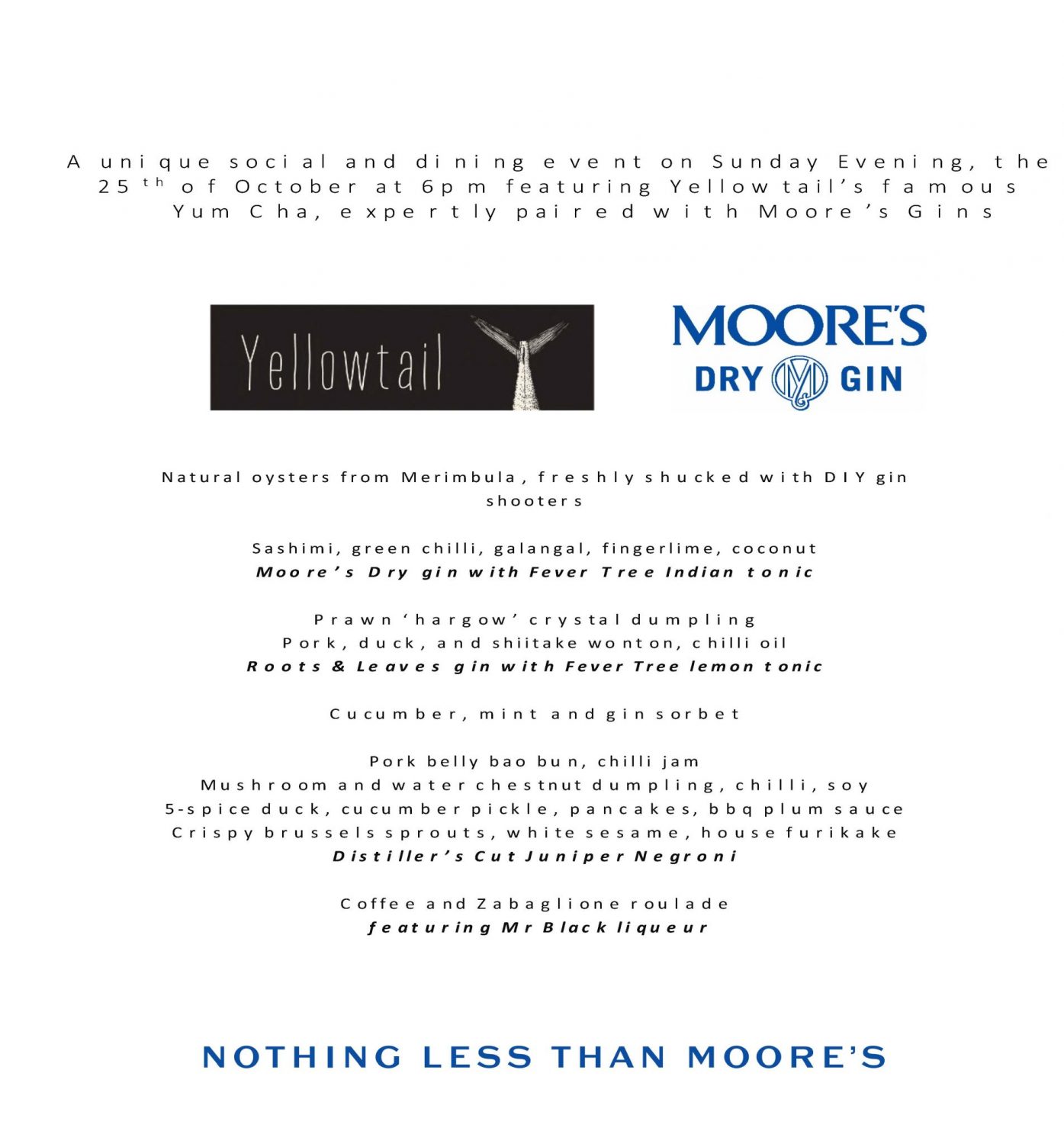 Get special offers & discounts
Don't miss out on our exclusive seasonal deals! Join our mailing list today.
Contemporary Coastal Dining
We always source the very best local, seasonal produce to make dishes with punchy, vibrant flavours for your experience
About Us
Opening late in the Spring of 2016, Yellowtail is the first solo restaurant from Queensland Chef, Scott Price. Located within a small shopfront on Campbell crescent in Terrigal, the 35 seater is open 7 nights from 5.30pm and Lunch from midday Friday,  Saturday, and Sunday.  
Price was raised on a farm in the rich food bowl of the Darling Downs, before travelling abroad to train with UK based Doyenne of modern seasonal cooking, Sally Clarke, at her eponymous London Restaurant.
On returning to Australia, Scott joined Gary Skelton (Season, Noosa) at his restaurant, Harvest, in Coolum, and has recently been working alongside Simon Palmer (ex-Gerard's Bistro) and Phillip Johnson at his 2 hat Bistro, E'cco in Brisbane.